LS adjourned amid Opposition ruckus, to meet again on Mar 23
Articles & Photo Credit Goes to UNI INDIA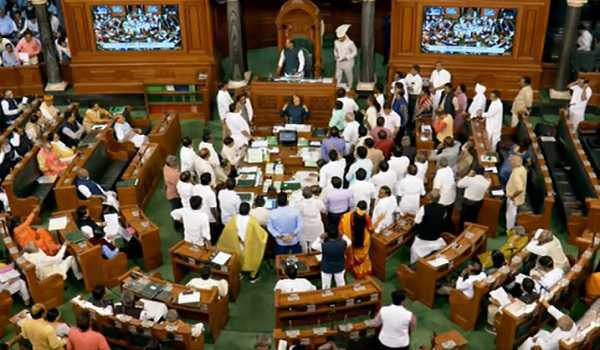 New Delhi, March 21 (UNI) Lok Sabha has been adjourned till Thursday amid Opposition protests over the Adani issue.





The Lower House was adjourned within 30 minutes after the lunch break. The Opposition has been demanding a Joint Parliamentary Committee (JPC) probe into the Hindenburg Research report over the Adani Group.





The Hindenburg Research report alleged that Adani Group had engaged in stock manipulation and accounting fraud schemes over the course of decades.





The Treasury benches countered the Opposition by demanding an apology from Congress MP from Wayanad Rahul Gandhi over his recent remarks on 'democracy' in the UK.



The House will observe a day break on Wednesday on the occasion of festivities in various parts of the country.



The Lower House passed the Jammu and Kashmir Budget proposals for 2023-24, Appropriation Bills-2023, and also Supplementary Demands for Grants for the Union Territory for financial year- 2022-23 by a voice vote amid Opposition uproar.



Several Opposition members trooped into the well of the House, and raised slogans, demanding a JPC probe into the Adani issue.



Later, Presiding Officer Rajendra Agrawal adjourned the House till March 23, 1100 hours.



Earlier in the day, Lok Sabha Speaker Om Birla adjourned the House till 1400 hours following Opposition uproar over the same.





"We want JPC," the Opposition members shouted after the Question Hour started.





Birla said, "Please go back to your seat. Yesterday, I asked leaders of all political parties to allow the House to function."



The Speaker made the statement in an apparent reference to the logjam in the Lower House over the Adani issue.



Meanwhile, Congress MP and General Secretary in-charge of Communications Jairam Ramesh in a tweet wrote,

"How can the Opposition demand for a JPC in the PM-linked Adani scam be linked to the BJP's demand for an apology from Rahul Gandhi on totally baseless accusations. The JPC is on a real, documented scam."



"The apology demand is a 'hoax' being raised to divert attention from the Adani scam," he said.



Congress president and Leader of Opposition in Rajya Sabha, Mallikarjun Kharge also took a dig at the BJP-led government at the Centre over the same and asked why the government was "running away from debate".



"Why is the Government stalling discussions in the Parliament? Is it not the responsibility of the Government to run the house and address issues of national interest?

If there is 'Saaf Niyat, Sahi Vikas', why running away from debate, PM Saab?," the Congress chief asked.





Earlier this morning, a meeting of Opposition parties, which have been demanding a JPC probe,

was held at the Office of Leader of Opposition in Rajya Sabha, Mallikarjun Kharge here on Tuesday.



Among the parties, JD (U), J&K NC and NCP attended the meeting.



Video Direcotry
Citadel of the Tiger at Ranthambore
Splendour of the Saline Shores
subscribe now